[NOTICE] To reduce the risk of infection for guests and our staff members, some services will be suspended or closed for the time being.
Please be aware that in addition to the following, we may change the business contents and operate it with the safety of guests and our staff members as the top priority.

Sorry for this inconvenience.
Tasteful of "Hina"
The mountains of Akan greet you, the lake at sunset soothes your mind, and the finest sunrise gives you vitality ... Relax your heart and body as you blend into nature. Please spend a relaxing time feeling warmth in our hotel.
Entrance・Lobby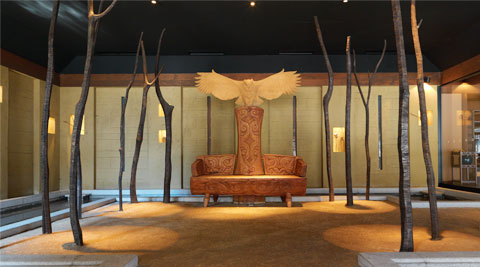 Gallery "湖森の座"
After passing through the quiet entrance, you will be greeted by art works that express the nature of Akan and continue to the lobby. The harmony of Japanese culture and the comfort of the hotel is a welcoming spirit of hospitality that has been handed down since ancient times. If you have any questions or happens something, please ask our front staff.
View more by google
Entrance・Lobby
Lobby Lounge
Bar Lounge
"座・Bar"
Lounge
Foot Bath
"和気の湯"
Lobby Lounge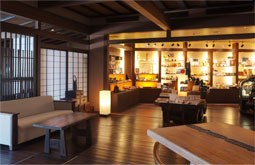 Shop "遊座房"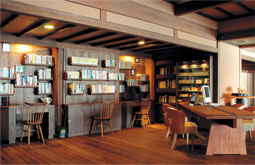 Library space
"Hina no Za" is Japanese style Ryokan where the scenery of the Japanese countryside is kept, spend slowly time at night, and the greenery of the trees is refreshing at daytime. Please enjoy reading at library space where books related to Lake Akan and the Ainu are lined up, and shopping at the shop "遊座房" where you can find original souvenirs of Hina no Za.
Bar Lounge

"座・Bar"

[NOTICE] *At the BAR, we will strengthen further infection prevention measures so that everyone can enjoy it with confidence as below;
We will limit the number of people who can enter the BAR and will guide you seat.

Sorry for this inconvenience.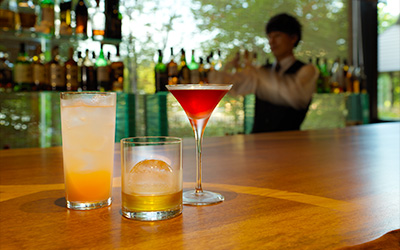 *We offer premium service the "Inclusive" formula for staying guests, order the beverages is not required additional charge except special drinks in our Restaurant, Bar, Foot Bath, and in room refrigerator. Please relax for a while over a drink.
*Paid menus such as rare wines and whiskeys are also available.
Open: 21:00〜22:30(L.O. 22:00)
A 10m natural wood counter overlooking the lake. You can spend slowly time flowing while drinking sake that has matured over the years and listening music. A full-scale wine cellar is provided, and wines are stored properly.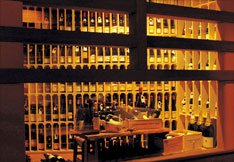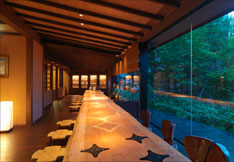 Lounge
Enjoy the warm tone played by the antique speaker JBL Paragon with your favorite music and your favorite wine.
Foot Bath

"和気の湯"

Lake Akan 100 Years Water
Take a break while soaking in a footbath while watching Lake Akan. In the winter, the warmth of the hot spring gradually permeates the cold body. For warmed bodies, you can freely drink the famous water "Lake Akan 100 Years Water" that stores natural minerals.
JAPANESE RESTAURANT

"Hina"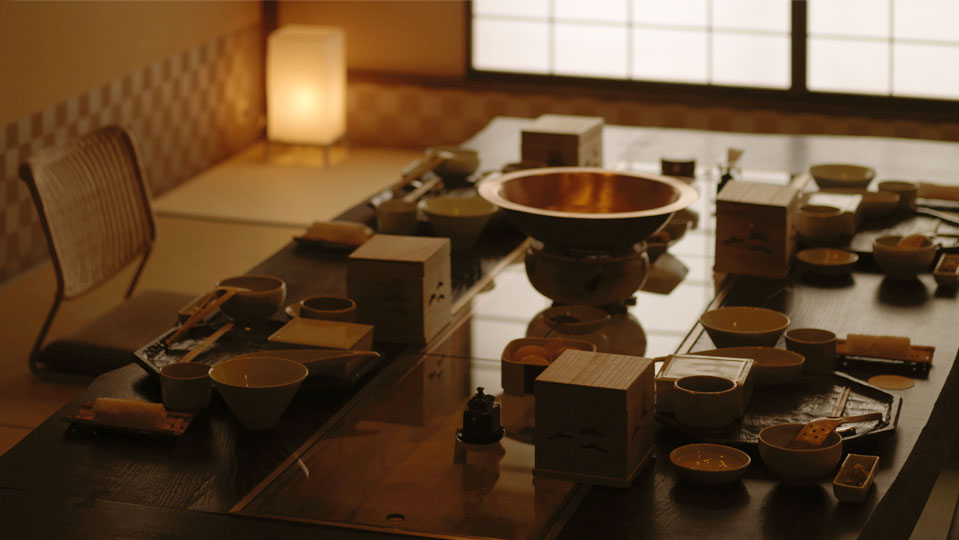 Meals in Hina no Za are served at Japanese restaurant "Hina". ( A part of room is also available in-room dinner.) There are three types of restaurant seats that is a low-table, a table, and a hall. Both offer seasonal dishes in a rustic and calm atmosphere.
We also have a variety of alcohol.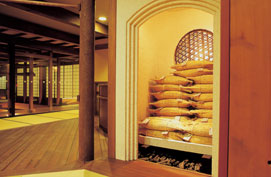 Traditional salt storage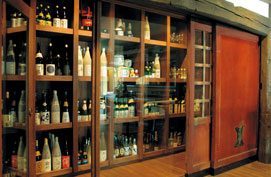 Wine cellar
Smoking area

Space for smokers. A comfortable space with comfortable sofas and moderately luminous lighting was set up.